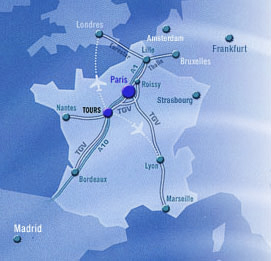 How to reach us: practical information
Tours is easily accessible from Paris (55 min), Roissy international airport (1h35 min), London (4h20 min), Brussels (3h30 min) and Geneva by high-speed train (TGV), as well as by motorways from Northern Europe, North-Eastern Europe, Spain, Italy and Switzerland. The Tours airport has direct flights to and from London (Ryanair), and is connected with most European capitals through Lyon (Airlinair).
General localisation in Europe:
Use the google map to get precise localisation:
Useful information if you travel by plane or by train:
If you travel by plane the best way is to flight to Paris - Charles de Gaulle Airport (CDG), though you might also go through Orly Airport for some intra-European flights. CDG Airport offers a great variety of flights from and to most destinations in the world. There is a direct train connection from CDG airport to the city of Tours (see below). You might also be able to travel directly to Tours with one of the few companies travelling to and from Tours - Val de Loire Airport.
For more details on CDG airport, click here.
For more details on Tours - Val de Loire Airport, click here.
The city of Tours offers numerous fast train (TGV) connections with most cities in France and Europe as well as with Paris airport CDG. Some trains go directly to the main train station of Tours but most of them stop at Saint-Pierre des Corps TGV station. In the latter case, you may need then to take a shuttle from St-Pierre des Corps to Tours. This shuttle is included in your train ticket and usually departs from the opposite platform following every fast train arrival. Tours train station is located right in downtown and most hotels and bus connections are a short walking distance away.
If you travel from Paris CDG airport, trains stop at St-Pierre des Corps and take about 2 hours to reach the city for less than 100 euros (return ticket). If you travel first to Paris by train you might need to reach the Montparnasse Train station first in order to catch fast trains for Tours. Travelling time between Montparnasse train station and Tours is about 1 hour and cost less than 80 euros (return ticket). Train tickets can be purchased in every train station or online (see below). Once you have bought your ticket, you will be assigned a car and a seat. Tickets need to be stamped before access to trains using the yellow boxes displaced all around in the train station.
For more details on the Paris subway system, click here.
For more details on French train system as connected to European system, go there.
To buy your train ticket online or to check for schedules: go there.
Our Institute is located on the south part of the city about 15 to 20 minutes by bus from downtown. All bus lines have a specific number and colour code. Bus tickets can be purchased in the bus for about 1.20 euro. Buses depart from all over the city but, depending on the location of your hotel, it might be easier to take your bus at the main bus station facing the main city hall. From the bus station, buses can go both ways so be careful when checking for the right destination (when you face the city hall you need to take buses leaving from the leftside of the street). From the train station, take the pedestrian street on your left when you exit the station and you will reach the bus station (the one in front of the train station is for inter-city buses).
To reach our institute you can take:
Bus line N°2 towards Parc Grandmont (Stop at "Faculté de Grandmont").
Our building is few meters away on your left when you leave the bus Bus line N°3 towards Joué Centre (Stop at "Boulevard de Chinon").
Bus line N°6 towards Chambray 2 (Stop at "Boulevard de Chinon").
Bus line N°11 towards Chambray centre (Stop at "Boulevard de Chinon"). From this stop you need to enter the Park across the street. Our institute is then on your right at the end of the street.
For more details on the Tours bus system, click here.